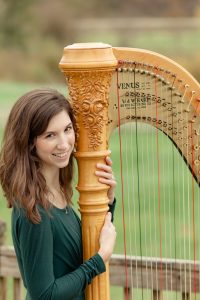 ---
The elegance of the harp – the gentle, sparkling sound, the beautiful instrument, the lovely ambiance inspired… There is nothing else quite like it.  And there is nothing greater than being able to share that beauty with the world.
Sweet is the music of the harp.
As a classically trained harpist, Kimberly Palazzolo has an extensive range of experience as a performer.  She regularly performs for events such as weddings, banquets, parties, church socials, and more.  She loves to enhance events with a beautiful and classy touch, adding that special something which a harp brings to any occasion!
Kimberly holds an LRSM Diploma in Harp Performance from ABRSM (Associated Board of the Royal Schools of Music, London), and studied with Carol McClure (The Harp School, Inc.).  In addition, she has participated in masterclasses with world-renowned harpists including Skaila Kanga (Head of Harp Studies, The Royal Academy of Music, London) and Elinor Bennett (Wales).  Kimberly resides in  Iowa City, Iowa with her brilliant violinist husband, Joshua.